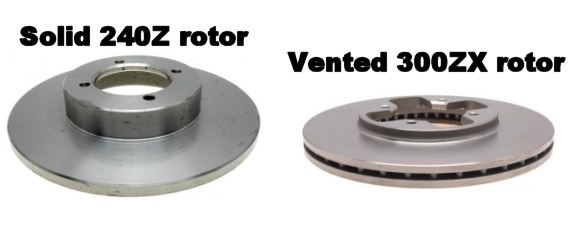 Vented Rotors and Larger Brake Calipers
Toyota 4x4 trucks in later years had thicker rotors that were vented for added cooling. The calipers were nearly the same but were made wider to fit over the thick vented rotors.
The calipers for this conversion are found on Toyota 4x4 truck (1988-95) and 4runner (1988-91). Those trucks had vented front rotors similar to the 300ZX (Z31). They will bolt to the Z-car's spindle and fit nicely over the 300ZX rotors.
Calipers are stamped S12-W
300ZX rotors are only found on 1984-85 non-turbo (4-lug)
The Turbo models and all of the later years had 5-lug rotors

​With this upgrade you not only get larger calipers and brake pads but you dramatically increase the cooling effects of the rotors to keep the rotors from warping under hard braking.

When bolted to a 280Z spindle, these wide Toyota cailpers are not perfectly centered over a 300ZX rotor. Because the caliper is fixed and not a floating type, you need the rotor to be perfectly centered for proper braking response. There are a couple places that you can buy spacer rings made in the correct thickness for this exact brake conversion. Slip the rings over your four mounting bolts and bolt the rotor with rings right to the 280Z hub. Now the rotor is centered correctly.
​When ordering spacer rings be very careful to specify if you will be using these on 240Z hubs or 280Z hubs. The set of spacers will have slightly different thickness depending on the application.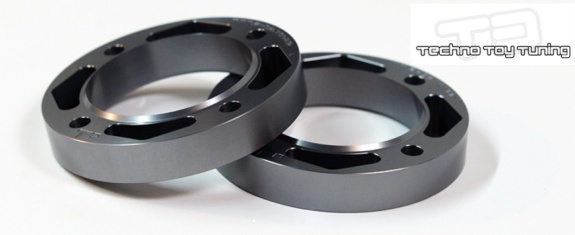 ​​ Again you have choices to buy some parts new or used. The spacer rings will likely not show up used very often. Brake rotors, pads, and rebuild kits should always be purchased new if possible. Used 300ZX rotors along with having them turned often costs more than buying new rotors.​

​​ Used calipers: $30-50 pair​​

New seals: $8-16 pair

New pads: $15-40 complete set

Used 300ZX rotors: $28-40 pair

Resurface rotors: $25 pair

New spacer rings: $95-110 pair

Total: $201+
​​ New Rebuilt calipers: $240-250 pair (loaded with brake pads)​​

New 300ZX rotors: $32-70 pair (4-lug only)

New spacer rings: $95-110